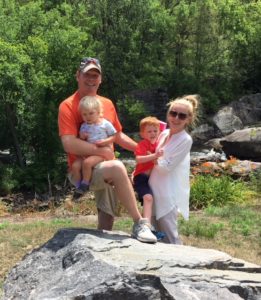 As a former CIA officer-turned-Mom, I had a lot to learn when it came to taking care of babies. Fortunately, my first child put me through baby boot camp, and I learned quickly. He was not much of a spitter-upper, but he did spit up, and it was during one of those early newborn-stage days when I came up with the idea for the BurpMitt. It was only until my second child was born that I truly appreciated the concept of the BurpMitt. She spit up ALL THE TIME. It didn't matter – breast milk, bottle, formula, breast – once you fed her, you were bound to get drenched. Traditional burp cloths have a tendency to slip out of your hand, or do not provide the coverage needed for an especially juicy burp.
I then understood…
The BurpMitt was born!
Made of super absorbent 100% organic cotton fabric, the BurpMitt can absorb up to ten times its weight in under two seconds. It soaks up twenty times faster than other materials (bamboo, cotton, hemp knits). There is no need to prewash and dry it to activate its super absorbency – it is ready-to-absorb straight out of the packaging.
BurpMitt® products are proudly made in the U.S.A., created by our own small, family-run company.
Contact Us:

[email protected]
Some of the links contained in this website are affiliate links, which means that we may get a commission if you decide to purchase anything via the links. We only recommend products that we love ourselves, so know that you are in good hands! We thank you in advance for contributing to our growing family!